Reading Time:
2
minutes
(Last Updated On: April 20, 2023)
Fortune Coins' first anniversary marks an incredible journey of innovation, hard work, and dedication. Here's what we have accomplished in just one year:
Reached the milestone of 2 million players across Canada and the US.
Offered over 150 games, each carefully crafted to provide the best gaming experience.
Released 56 new games in the last month alone to keep our players engaged and entertained.
We're grateful to our players for their support and loyalty, and we look forward to providing them with many more years of success and fun! We started with a simple mission – to offer an engaging platform where players could unwind and enjoy the thrill of online casino-style gaming, and we're proud to have accomplished so much in just one year.
"Today we are celebrating FortuneCoins.com one year of Race to Fortune,"  said Mickey Blayvas, the CEO of Fortune Coins. "In April 2022, our team set a goal to achieve a significant increase in the market share within a year, and we did it! To achieve it, we implemented a strategic plan that focused on identifying and pursuing opportunities for growth with a high focus on ongoing improvements of user experience, adding more value for our customers and optimizing processes to support the growth. This involved a range of tactics, such as increasing significantly the library of casino-style games, expanding into new territories, improving operational efficiency, and enhancing marketing efforts," added Blayvas. "The key to success is our relentless focus on achieving the desired outcome and a willingness to adapt and evolve to overcome obstacles and seize opportunities along the way."
The casino has spared no expense to ensure that the festivities are unforgettable. The anniversary celebration will be a #RACETOFORTUNE marketing campaign. It will feature a series of special daily events and exciting competitions that will run throughout this month:
#SPINTOFORTUNE: Spin in FC daily for a chance to win GC1,000,000,000 + free FC5,000,000!
#SHARETHEFORTUNE: Refer a friend for a chance to win GC1,000,000,000 + free FC1,000,000!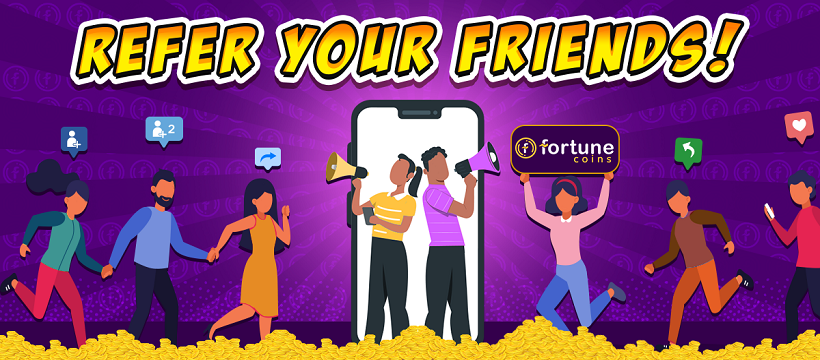 #SHOWCASETHEFORTUNE: post videos of FC wins using the hashtag #showcasethefortune for a chance to win GC1,000,000,000 + free FC1,000,000!
Follow our Fortune Coins Promo Page and take a chance to get bonuses and prizes!
Over the next few weeks, FortuneCoins.com will add 56 new games to the existing library of 115 casino-style games, increased play sizes, and bigger jackpots. All the games are carefully crafted to provide the best gaming experience.
Fortune Coins' success is a testament to our team's passion for creating an immersive gaming environment that appeals to all types of players. We're dedicated to maintaining our high standards of quality, and we're thrilled that our players recognize and appreciate our efforts.
As we celebrate our first anniversary, we want to extend our heartfelt thanks to our players for their loyalty and support. Your feedback and suggestions have helped us to grow and evolve, and we're committed to continuing to deliver on your expectations.
We're excited about the future of Fortune Coins and look forward to many more years of providing the best gaming experience. So, come join us on this thrilling adventure, and let's create new memories together. Thank you for being part of our journey!
Read more:
https://www.newswire.ca/news-releases/fortunecoins-com-celebrates-1st-anniversary-with-an-epic-marketing-campaign-878578287.html
Please follow and like us: