Reading Time:
6
minutes
(Last Updated On: May 5, 2023)
Table of Content
Sweepstakes gaming has been a popular pastime for many years now, primarily due to its availability in areas where laws prohibit traditional online casinos. However, there is another important aspect of this form of entertainment that is equally, if not more, attractive — socializing and connecting with players from all around the world.
This article delves into the social side of sweepstakes casinos, exploring how they foster a sense of belonging and connection among players. Join us as we explore the evolution of social gaming and its features and learn what benefits you can reap from participating in this exciting activity.
Evolution of Social Gaming
With the advancement in technology, people have become more connected online yet increasingly isolated in real life. However, we are social beings and crave regular interactions in order to maintain our emotional and mental health. Therefore, we are driven to find and use novel resources that can help us build wholesome social connections.
This need has prompted the gambling industry to adapt in order to meet players' changing demands, contributing to the emergence of social gaming. A crucial aspect of this evolution is the incorporation of social and communication elements, leading to an immersive gaming experience where players can interact both with the game and other participants.
What's more, research on gambling demographics has shown that social gaming has evolved to bridge the gap in gender representation, providing a pathway to more inclusivity. As women are more likely to be drawn to the social aspect of gaming rather than its competitive nature, the expansion of interactive features has diversified the scene and brought more people together.
What Is Sweepstakes Gaming?
Sweepstakes gaming is a popular subset of social gaming similar to online casino gambling. Sweepstakes web-based platforms offer the same casino-style games you can find on traditional gambling sites, the only difference being that they let you enjoy them for free. Social casinos like Fortune Coins use special virtual currencies called Gold Coins and Sweeps Coins, allowing you to both play for fun and have the opportunity to win cash prizes.
Another crucial aspect of sweepstakes gaming lies in its interactive features that foster social connections. Namely, many of these casinos are integrated with social media platforms, such as Facebook, allowing users to enjoy games with their friends and share their experiences and gaming progress on their feeds. These sites also offer players the chance to use chat rooms, participate in tournaments, and rank on leaderboards, facilitating social connections through virtual interaction.
How to Do Sweepstakes Casinos Work?
Gold Coins are the main currency at sweepstakes casinos. They can be used to play sweepstakes slots and table games completely without charge, and the operators give them away for free. Users can typically get a specific amount of this currency when they create an account on the site and every time they log into their accounts for the day. 
On top of that, there are various bonuses and promotions that can provide you with more Gold Coins. However, should you run out, you can always buy additional packages.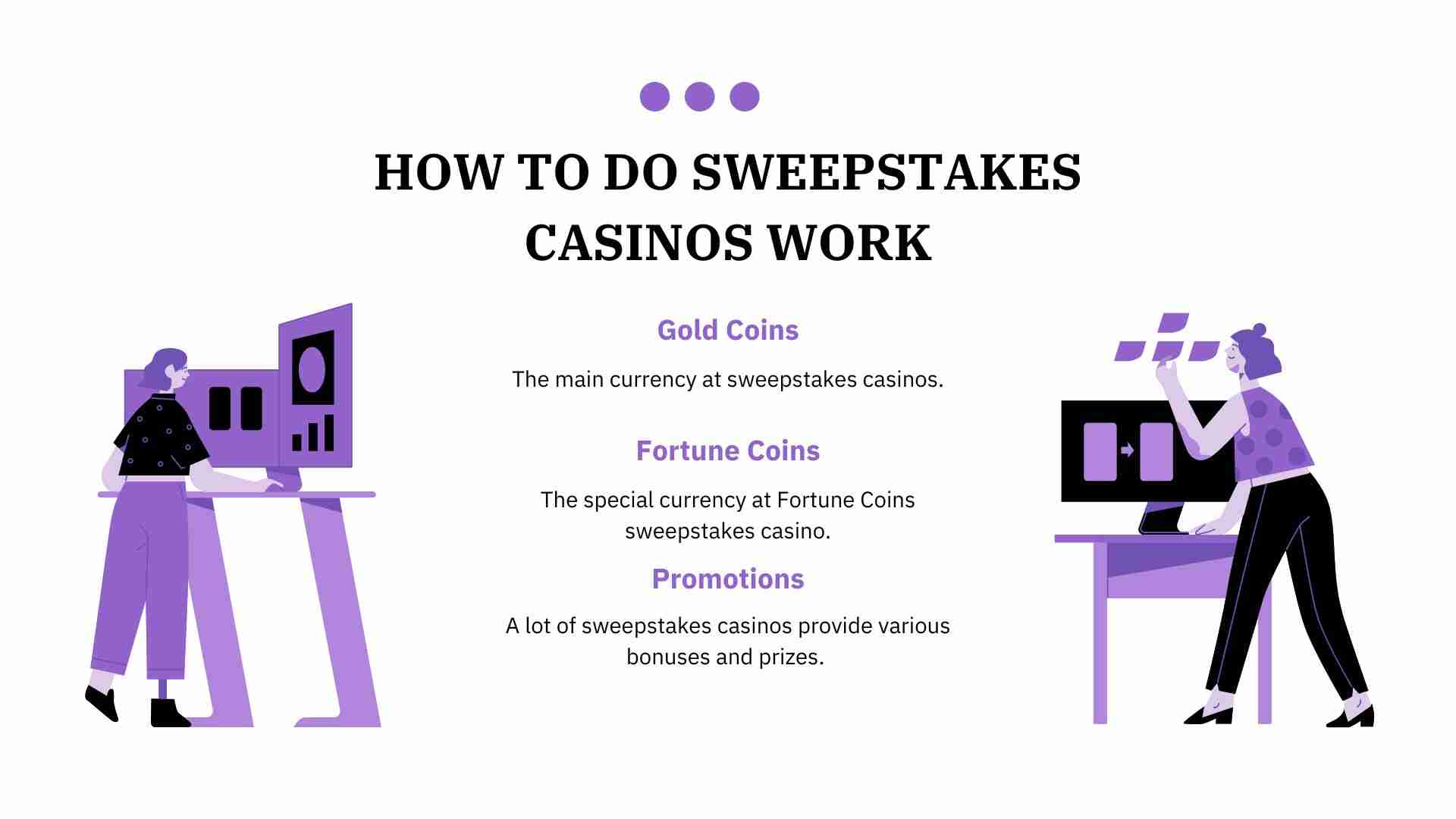 When you take part in sweepstakes games using Gold Coins, you can't win any real money prizes. In contrast, if you play using Sweeps Coins, you can later exchange them for cash prizes at the cashier. Still, they cannot be bought directly — you can only get them as a part of the sign-up offer or the Gold Coins purchase bonus.
Since they don't require players to use real money while playing, sweepstakes casinos are legal in most US states. Strict federal laws regulate the operations of these businesses in the country, which makes sweepstakes casinos safe and secure for all players.
The Rise of Social Media and Its Integration with Sweepstakes Gaming
With the expansion of social media in the last couple of decades, it was only natural for social gaming sites to enter a kind of collaboration with these platforms. By integrating with services like Facebook, sweepstakes casinos allow players to sign up with their social media accounts.
On the one hand, this integration helps operators increase player acquisition, and on the other, it helps users enter gaming communities. This enables them to create connections with like-minded people from all over the globe and bond with them over a shared activity. These gaming communities also make learning from others easy and convenient, helping people improve their gaming skills over time.
Social Aspects of Sweepstakes Gaming
Realizing the benefits and the importance of social interaction for online gaming, sweepstakes casinos offer their users multiple ways of connecting with players from their region or other parts of the world. Here are the key social aspects of sweepstakes gaming most of these sites integrate:
Chat rooms

— Most sweepstakes casinos have chat rooms where players have the opportunity to talk to each other, connect with their friends, or find common ground with complete strangers. You can use chat rooms to discuss your gaming experience, ask for advice, share your opinions, or simply joke around and have fun. Participating in chat room conversations can increase the sense of belonging and potentially help you form online friendships.

Leaderboards

— Sweepstakes gaming sites use leaderboards to motivate players and create a challenging and exciting gaming experience. Leaderboards can come in different variations, ranking users for their engagement, scores, time spent playing, and more. This increases the competitive aspect of gaming, making it suitable for those who bond with others through rivalry.
Tournaments

— Similarly to leaderboards, tournaments promote the competitive aspect of gaming. They are well-organized, time-limited online competitions that come with specific rules and prize pools for winners. These events let players compete against each other in a thrilling environment, with common motivations connecting rather than dividing them.
Social media

— Thanks to the sweepstakes sites' integration with social media, players can connect their personal profiles with their game accounts. This enables them to share their opinions and progress, connect with other users, invite their friends to try out the platform, and more. Sweepstakes casinos also frequently offer social media promotions, thus increasing a sense of belonging and loyalty in dedicated players.
Benefits of Sweepstakes Gaming for Players
Sweepstakes gaming can be extremely beneficial for players in terms of their social lives, so let's take a look at the most prominent advantages of engaging in this type of entertainment:
More socializing

— Sweepstakes casinos create opportunities for their customers to have interactions with people who share similar interests. This can be especially valuable for players who have limited opportunities for socializing in their day-to-day lives.

Relaxation and stress relief

— The demands of everyday life can leave you feeling drained and wound up at the end of the day. Sweepstakes gaming can come in handy as it can help you relax and release pent-up stress, while its social aspect may provide emotional support. You can also take this chance to share some of your struggles with fellow players.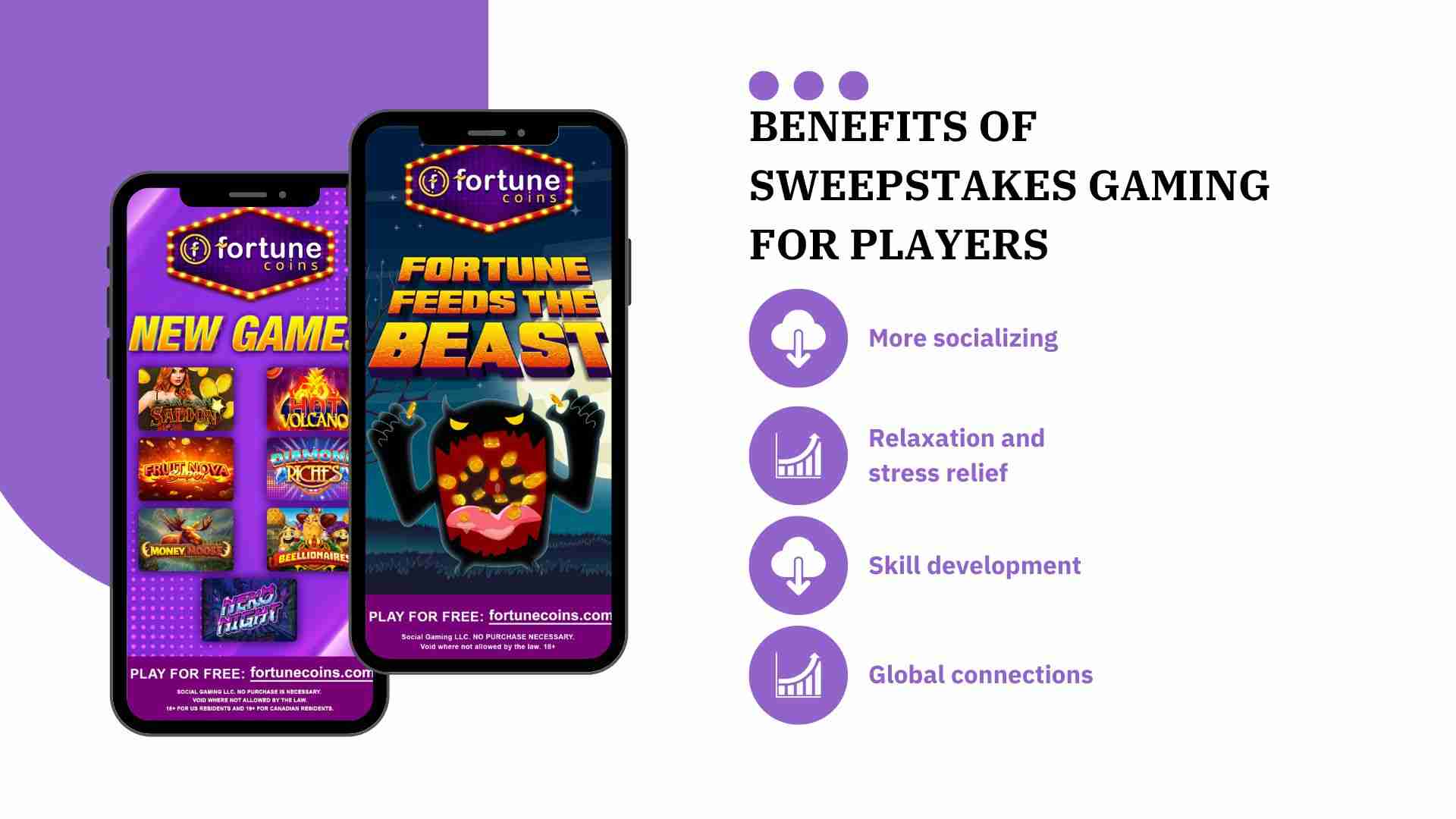 Skill development

— Playing casino games on your own can be a great way to practice. However, watching other participants do their thing and discussing various tips and strategies with them can take your skill development to a whole other level. This helps foster camaraderie and lets you improve your skills much faster.
Global connections

— Sweepstakes casinos often accept international players with different backgrounds, granting you an opportunity to meet people from many different cultures and walks of life. Coming together to enjoy a common pastime can give players a sense of familiarity, transcending language barriers and cultural differences.
Future Trends in Social Sweepstakes Gaming
Although sweepstake gaming has reached a high level of social integration and cross-cultural communication, there is still room for it to grow under the influence of emerging technological advances. For instance, virtual reality and augmented reality can be used to make the experience more immersive and life-like, enabling participants to connect on a deeper level.
 Do you want to know more? Read our article >> Gold vs Sweeps Coins in Sweepstakes Casinos
Also, artificial intelligence can help create more personalized gaming and socializing experiences. It can analyze players' behavior to help them find suitable games and identify people with similar interests and skill levels. The technology may also allow increased personalization of users' profiles, letting them show off their personalities and create more authentic relationships with other participants.
Final Thoughts
In today's world of fast technological advancement, where civilization is moving away from collectivism to individuality and separation, sweepstakes gaming offers the opportunity to restore some of the lost communal spirits.
By enabling communication via social media and chat rooms, fostering a sense of togetherness through leaderboards and tournaments, and connecting players from different parts of the world, social casinos help people expand their social circles and make their lives richer and more exciting.
Please follow and like us: