Reading Time:
7
minutes
(Last Updated On: June 9, 2023)
Table of Contents
Sweepstakes online gaming sites are a convenient and comfortable way to enjoy casino games in Chicago. They're simple to join, available on desktop and mobile devices, and completely free to play. Yet, one benefit stands out above them all —  the opportunity to take part in sweepstakes live casino games and tournaments.
These titles allow players to compete with fellow gamers, learn from them, and hone their skills. They provide an immersive gaming experience and a chance to win fantastic prizes and rewards.
If you're interested in live sweepstakes action, you must be well-versed in casino etiquette and culture. The following article explores the topic in-depth, discussing casino manners, player behavior, responsible gaming, and other dos and don'ts of playing live sweepstakes casino games. Read on to learn all the fundamentals. 
Gaming at Chicago Sweepstakes Casinos
Before we discuss casino etiquette, it's crucial you master the basics of social gaming. We'll list and explain the most important rules in the sections below. Read them carefully to discover what to expect from a sweepstakes casino and how to make the most of your gaming experience.
Find a Good Sweepstakes Casino
The foundation of every great gaming session depends on the quality of the casino you choose. Before considering gaming rules and etiquette, you must find a reputable platform to join. The sweepstakes model is legal in most US states and, therefore, widely available. You'll be able to pick from many fantastic sites.
To make the right decision, learn about each site's legal status and reputation from reviews and user feedback. Visit each website you're interested in and browse its gaming offer. Don't forget to check its bonuses and terms and conditions. Use this research to choose a casino that matches your needs and preferences best.
Learn How the Casino Works
Sweepstakes and social casinos operate differently from their real-funds counterparts. When based in the US, these platforms comply with no-purchase-necessary or sweepstakes laws. It is legal for them to provide gaming opportunities to US citizens, for example, Chicagoans, as long as they do not require players to deposit real funds to play. Instead, sweepstakes work with a virtual currency called sweeps and gold coins. Players can win or buy these credits from the casino and use them to game. 
If you don't have experience with these rules, read and learn about them before playing. This way, your actions will comply with the law and your casino's T&C.
Do you want to know more? Read also Tips to Win in Online Fish Games in 2023.
Choose the Right Game
US gaming laws differ from one state to another. To abide by all of them, sweepstakes gaming sites feature modified versions of traditional casino games. These titles have the same structure and gameplay but include rules or props that differentiate them from regular casino games. For instance, they host roulette with playing cards instead of the standard wheel or a marble ball, or a Joker Poker variant without the Joker card.
These changes may be confusing at first, especially if you're used to playing at traditional casinos. However, they're integral to many social gaming platforms and, by extension, your gaming sessions. Take the time to read the rules of each game in advance to avoid making common mistakes.
Create a Budget
Setting a budget is an essential step in playing at any online casino. Gaming is immensely entertaining, which makes it easy to get carried away and spend more than you initially intended. Setting up a fixed budget is a great way to prevent situations like this from occurring.  Simply consider the amount of money at your disposal and how much you can afford to lose. Use those numbers to create your budget and stick to it during your gaming session. 
Don't overstep your financial limits regardless of whether you're on a winning or losing streak. Spending more won't affect the way the game pays out. Respect the rules you've set for yourself, and you'll be able to relax and enjoy every round to its fullest.
Pick a Betting Strategy
Selecting a betting strategy is a tip that goes hand in hand with previous information. Once you have a budget, you should know how to use it. You'll have a chance at bigger prizes if you play with higher stakes. Conversely, you'll enjoy longer gaming sessions if you opt for smaller bets.
While it might be wise to start with lower stakes to get a feel of the game, there's no right or wrong strategy here. You should make a choice depending on your preferences and needs. Check the game's stake limits and consider your budget to find that sweet spot.
Assume You'll Lose
No matter the casino game you play, the house always has the advantage. That's the way casinos offset their losses and make a living. So, don't assume you'll win simply because you've been playing for a long time, used a recommended strategy, or invested a lot of coins. No tip or trick can guarantee success.
Don't get frustrated or emotional about your losses and rush into another round distraught. Rather, play the game for its entertainment value, and try your best to enjoy your time. Then, you can count every win and profit as an added bonus.
Don't Get Carried Away
Social and sweepstakes casinos are packed with fantastic gaming options, so it's easy to get sucked in and lose track of time. If you enjoy drinking while playing, that risk is even higher. Alcohol clouds our minds and senses and prevents us from making responsible decisions. So, try to stay in control and keep your gaming habits healthy. Reduce your alcohol consumption to a minimum, take frequent breaks, and stay on top of your finances.
Learn From Other Players
Online live dealer games provide a unique opportunity to play with people from all over the world. They allow you to hit the felt with less and more experienced players and get to observe their gaming techniques and tactics. Thanks to the chat option many sweepstakes casinos offer, you can even communicate with them. 
Take advantage of these options and gather as much knowledge as possible from your fellow players. Observe their moves, make notes, and analyze them afterward. You'll learn from other people's mistakes and gains and ease your path to success.
Dos and Don'ts of Live Sweepstakes Gaming
The rules we've discussed prepare you for social gaming. However, there are a few details you ought to know before you join live-stream games and tournaments on these platforms. You can find them in the paragraphs below.
Do Know the Rules and Odds
Live dealer games play in real-time with actual dealers and players. There's little room for you to get ready, as the gameplay might already be underway when you join the table. Therefore, you must arrive prepared for any scenario.
Learn the rules and find out the odds before the game starts. Most reputable sweepstake casinos' titles provide description boxes with helpful information about the gameplay and payouts. The same goes for live tournaments. Search for specific tournament details and restrictions in the casino's tournament section or T&C page. 
This way, you'll know what you're getting into and won't risk breaking any casino regulations. Plus, you'll have enough time to choose the best gaming strategy and join the action hassle-free.
Do Play in a Timely Manner
As mentioned, sweepstakes live-game action takes place in real time. Players take turns making decisions. There are usually no limits on how long you can spend contemplating your next move when it's your time to act. However, that doesn't mean you should take forever to think of the best strategy. Respect other players' time and make prompt decisions.
If you're a slow thinker, it might help to prepare for the game beforehand. The internet is brimming with tips and strategies that can help you boost your winning chances, no matter whether you're playing casino classics or popular sweepstakes fish games. Read through as many as you can and make notes you can use during gameplay.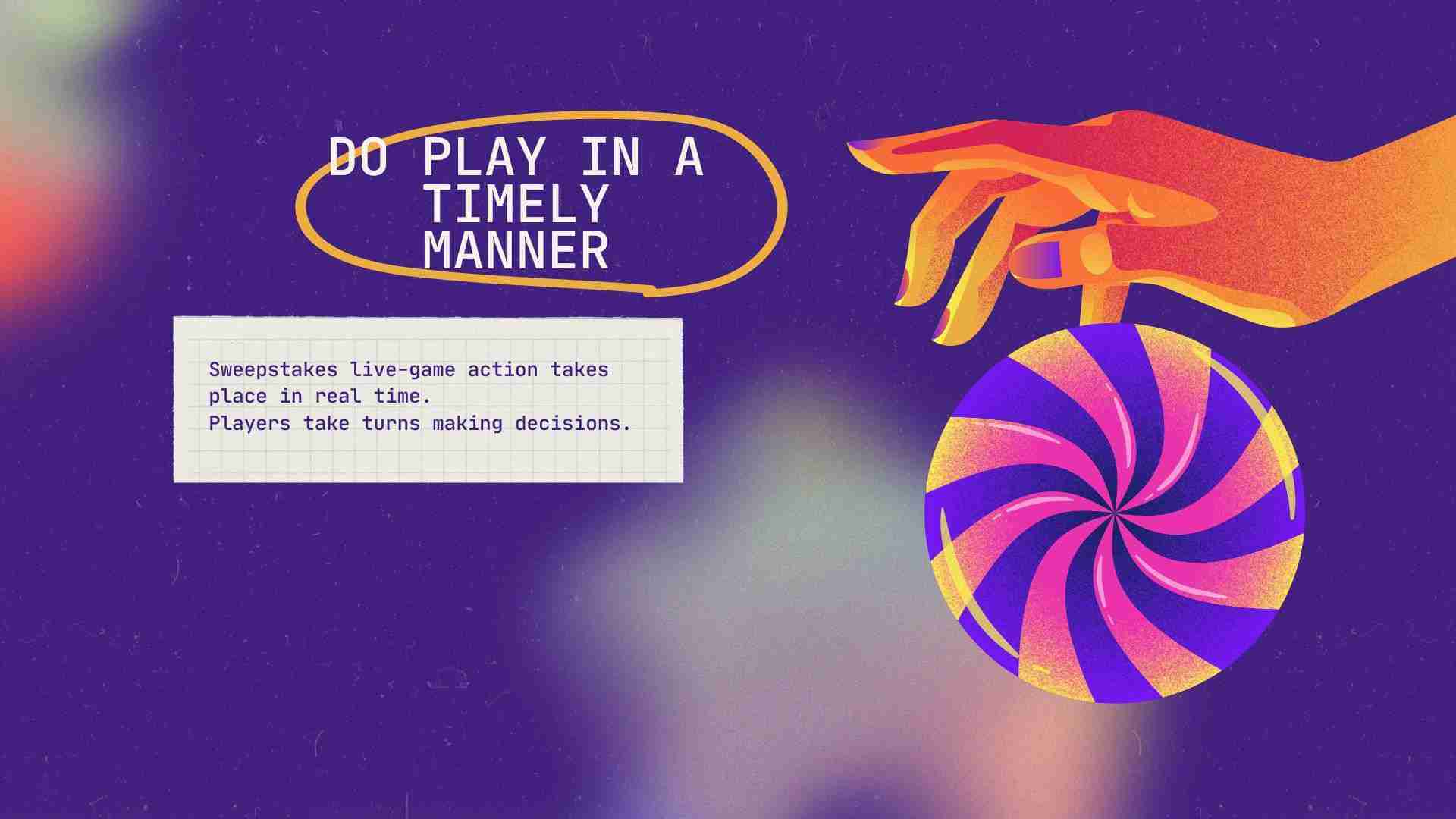 Do Treat the Dealer and Other Players Courteously
Unlike land-based casinos, live online casinos give players a lot of freedom. They can dress however they like, play at home or on the go, and eat, drink, or listen to their choice of music. Still, there are a few house rules they must follow, respectful behavior being one of them. 
You should treat the dealer and other players with respect at all times. Don't say anything you wouldn't have said in person simply because you're behind a screen. Keep your composure regardless of your wins or losses, and use the chat option responsibly.
Don't Give Unsolicited Advice
Sweepstakes live streams will allow you to play with a plethora of different players. There might be times when you're tempted to give advice or warn someone who's about to make a mistake. However, you should avoid making any suggestions of this nature for two reasons. 
Firstly, you might interfere with someone's ability to make the right decision or give them the impression that you are conspiring against them. Secondly, you may expose your strategy and give your opponents the upper hand. Either way, you won't accomplish anything.
Don't Discuss Your Gameplay
Discussing your gameplay in the middle of a game is a no-no for both land-based and online sweepstakes live titles. It doesn't matter whether you're seeking information about your next move or bringing up folded cards — it won't work in your favor. Other players will gain insight into your strategy or cards left in the deck and use that against you. Paddling your own canoe will get you father.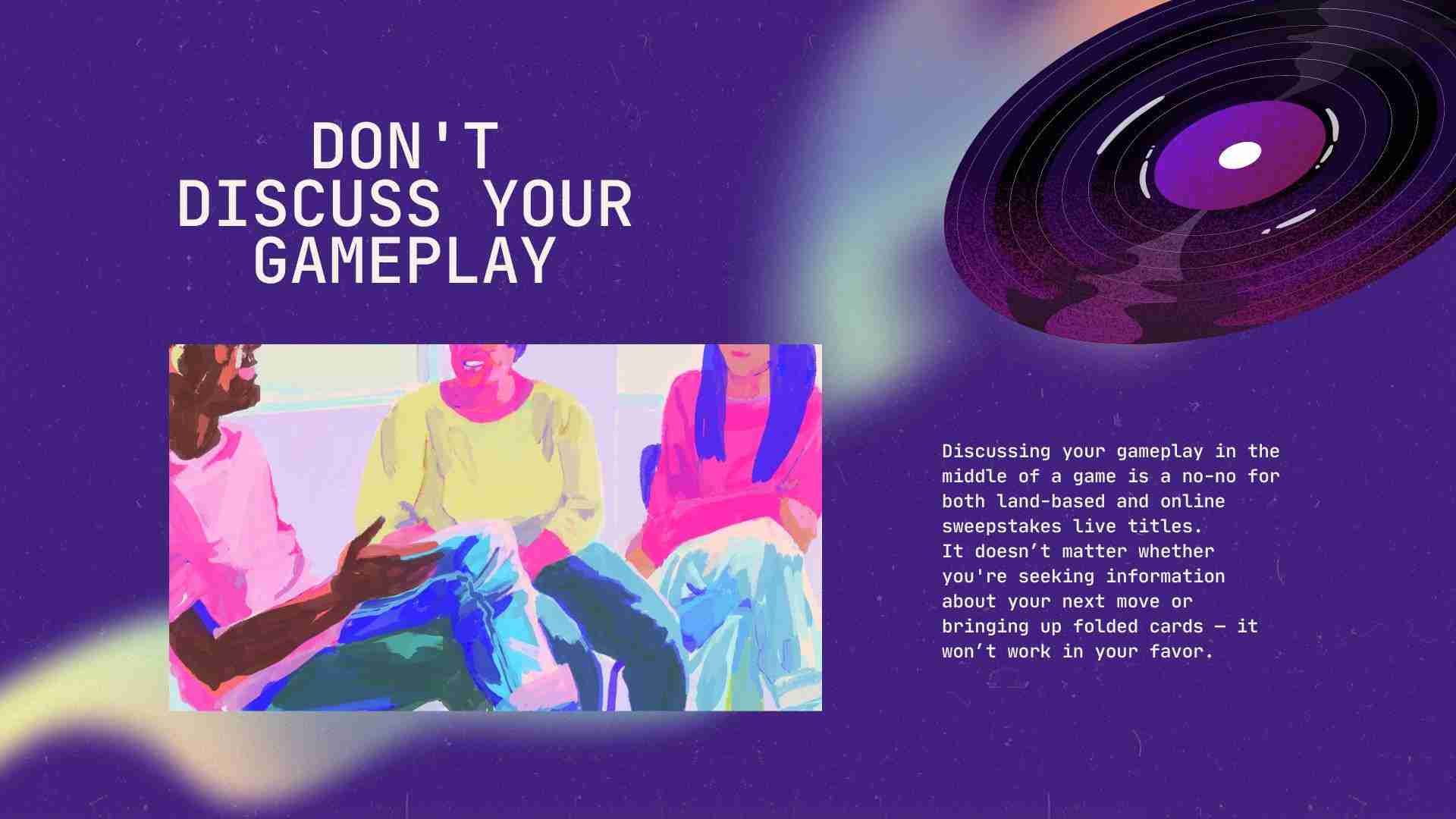 Responsible Gaming
One last thing you should know before playing at sweepstakes casinos concerns responsible gaming. Enjoying social casino-style games comes with the same built-in risk as playing on standard gaming platforms. If you're not careful, they can negatively affect your life or finances. Here are a few tips that can help you avoid this problem:
Don't play when you're too emotional or stressed

Don't play while under the influence

Don't play to earn a living

Don't stake more than you can afford to lose

Don't borrow funds to play

Don't chase your losses

Don't forget to take breaks

Don't let gaming disrupt your work or personal life
If you experience gaming problems, contact casino support and check their responsible gaming pages. Any of these should help you find prevention and treatment organizations that can assist you.
Please follow and like us: