Reading Time:
4
minutes
(Last Updated On: April 20, 2023)
Table of contents
Table games are among the most exciting casino games, as titles like blackjack and roulette play offer a timeless appeal. Many people have the misconception that they have to use actual funds to play them, but that's not the case.
Online social casinos with sweepstakes elements like Fortune Coins allow players to try out many table games for free. That's why we wanted to break down our selection of table games, any of which you can load right now.
Jacks or Better
With Jacks or Better, you can experience the excitement of poker without having to learn the countless rules that come with it.
The goal is to create a winning poker hand from the cards dealt. In this sense, the game is similar to video poker titles, as you get five cards and the chance to keep some and discard the others. After deciding, the system exchanges the discarded cards, and if the newly formed combination is a winning poker hand, you win. If not, you lose the stake and get to start again.
Every round starts with five random cards from a regular deck of 52 cards. The winning combinations are the ones you get in a standard poker game. This includes the following:
Pair — Jacks, queens, kings, or aces
Two Pairs — Any cards from the pairs
Three of a Kind — Three same-value cards
Straight — Five cards in sequential order
Flush — Any five cards of the same suit
Full House — Three of a kind and a pair
Four of a Kind — Four of the same-value cards
Straight Flush — Five same-suited cards in sequential order
Royal Flush — Same-suited ten, jack, queen, king, and ace
Face pairs award the least or 1,100 gold coins, and a royal flush (hand with a suited 10, jack, queen, king, and ace) is the highest, rewarding as much as 88,000 with the lowest stake in the game — 1,200 GC. The actual reward of the royal flush is 800x your stake.
Moreover, remember that pairs with number cards don't count as winning combinations, only face cards and aces, which award more — than 2,200 GC.
To make the gaming experience even more exciting, Jacks or Better features four jackpots awarded randomly. What's more, they grow in size with every draw you make.
Joker Poker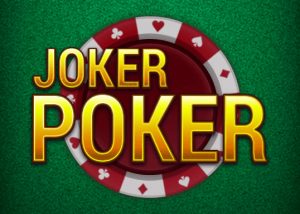 With only a slight difference from Jacks or Better, Joker Poker is a table game with a joker in its standard card pack. Consequently, the deck consists of 53 cards instead of the regular 52.
The gameplay is still the same — you get a hand of five random cards and need to decide which ones to discard. The discarded cards are exchanged for new ones with the next draw, and you win if you've formed a winning combination.
However, the exciting part comes when the joker acts as a wild and can thus substitute any other card. When you get it, it's best to keep it as it's likely to help you get some rewards.
📑 Do you want to know more? Read our article >> Mistakes to Avoid When Looking for the Best Online Casino
Speaking of rewards, the lowest is an ace pair. Unlike other table games, face cards don't award when they form pairs. The other combinations are the same as in poker table games, but there is also joker royal flush and five-of-a-kind. The former is a royal flush with one card being the joker, and the latter is a four-of-a-kind plus a joker.
Once again, the royal flush is the game-changer with an 800x your stake reward.
Joker Poker also has a jackpot functionality like Jacks or Better, and the four rewards increase with each spin.
Casino War: The Evergreen of Table Games
Look no further than Casino War or an entirely simple gameplay and over-the-top excitement.
The goal is to get a higher card than the dealer, which results in a win that pays 1:1. This is decided by the card's value, not the suit, while the ace is the highest.
When the two of you get the same value cards, there are two options — go to war or surrender.
As the name suggests, the go-to war option is the more exciting one since it raises the chip total by an equal amount. The system deals three face-down and one face-up card to you and the dealer, with the higher face-up card winning the showdown.
Also, you win the round if they go-to-war option ends in another tie. Moreover, if you've placed chips on a tie and the result is also a tie, you'll win 10:1 on the total number of chips staked.
The surrender option lets you keep half of the chips you've staked and ends the round.
Unlike most other war table games, Fortune Coins Casino War features three hands, each operating separately. You can choose how many you'll play, and each will face the dealer in the upcoming round, giving you more than one chance of winning. In other words, it's the same as playing three rounds simultaneously.
Casino War also features our standard jackpot function with four jackpots that increase with each new round. The game awards any of them at random.
Lastly, every round uses six decks of 52 cards, meaning 312 cards are in play. Consequently, ties are a lot more common than you might think.
Final Thoughts on the Best Free Table Games
Fortune Coins should be your leading choice if you're looking to play table games for free. These three titles are pretty exciting, each one offering something new and stimulating. They all come with jackpots, so every round in any game is potentially very rewarding.
If you're ready to begin, complete the quick registration process and start your journey with us. Also, remember that besides the releases we've covered, Fortune Coins shelves 47 more games, including various slots, fish games, and more.
Please follow and like us: