Reading Time:
5
minutes
(Last Updated On: April 20, 2023)
Table of Contents
Social Casinos with sweepstakes elements, like Fortune Coins casino, are always free to play as no purchase or payment is required to obtain coins to play free games. If a player runs out of sweeps coins (Fortune Coins referred to as "FC"), they may decide to acquire such. However, a purchase or a payment of gold coins doesn't guarantee a win. That is why it is vital to keep your play responsible.
But what are some of the essential rules and terms in the world of online gaming in social casinos?
Read on to get acquainted, if you are a newbie social casino player.
How to play casino games responsibly in sweepstakes casinos
Playing online sweepstakes casino games can be a fun and enjoyable form of entertainment. But it is important to make sure that you are playing responsibly.
Here are a few tips for playing responsibly in sweepstakes casinos online:
Set a budget
It is a good idea to decide how much money you are comfortable spending on sweepstakes contests before you start playing. Stick to your budget and stop playing if you reach your limit.
Take breaks
It is essential to take breaks and step away from the computer or mobile device every now and then. This will help you to maintain a healthy balance between your online activities and other aspects of your life.
Know when to stop
If you find that you are spending more time or money on sweepstakes contests than you intended, it may be time to take a break or stop playing altogether.
Use responsible gaming tools
Many online sweepstakes casinos offer tools and resources to help players play responsibly. These may include setting deposit limits, self-exclusion options, and access to support and resources for the problem of the irresponsible play.
Seek help if needed
If you or someone you know is experiencing problems with self-control when playing, there are resources available to help.
Legal Age to Play in Sweepstakes Casinos Online
The legal age to play in an online sweepstakes casino can vary depending on the location of the casino and the specific laws of that jurisdiction. In the United States, the legal age is typically 21 years old. However, this can vary by state. Some states allow individuals 18 years old or older to play popular casino games in sweepstakes casinos online.
It is important for players to be aware of the laws and regulations regarding the legal age to register and play at a casino in their jurisdiction and to make sure that they are of legal age before participating in any online sweepstakes contests or other casino-related activities.
Sweepstakes casino sites may require players to provide proof of age before allowing them to participate in contests or games. Players who are under the legal age may be restricted from participating in sweepstakes contests or other casino-related activities such as playing online sweepstake games.
Are There Any Welcome Bonuses When You Sign Up to Play Sweepstakes Casinos Online?
Some sweepstakes casino sites may offer welcome bonuses to players when they register for an account. A welcome bonus is a type of promotion offered by the sweepstakes casinos online to encourage players to sign up and start playing. Welcome bonuses can take many different forms. Examples are free sweepstakes entries, bonus sweepstakes coins, or other perks or incentives.
It is important for players to carefully read the terms and conditions of any welcome bonus or promotion before accepting it. Welcome bonuses may come with certain restrictions or requirements. Some websites have restrictions on a minimum deposit or a requirement to play sweepstakes casino games before the bonus can be redeemed. Players should be aware of these requirements. Also, they need to make sure that they are comfortable with them before accepting a welcome bonus.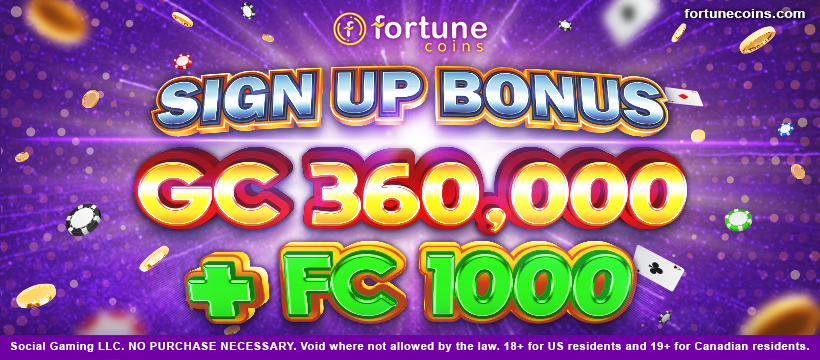 It is also worth noting that welcome bonuses are generally only available to new players who are registering for an account for the first time. Players who already have an account with sweepstakes and social casinos may not be eligible for a welcome bonus.
For instance, Fortune Coins currently offers GC 360,000 (Gold Coins) and free FC 1000 (Fortune Coins). There is also a friend referral bonus.
To join Fortune Coins Casino, register via email or using your Facebook account.
What is the Verification Process of the Sweepstakes Casinos Online
The verification process for registering to sweepstakes and social casinos can vary. Depending on the specific casino and the laws and regulations that apply to it. However, there are a few common steps that may be involved in the verification process:
Providing personal information
Sweepstakes casinos online may require players to provide personal information. For instance: their name, address, and date of birth when registering for an account.
Verifying identity
To verify a player's identity, sweepstakes and social casinos may ask for a government-issued identification card or other documentation.
Verifying age
As mentioned earlier, there is typically a minimum age requirement for registering and playing in any casino. And online sweepstakes casinos may require players to provide proof of age before allowing them to participate in contests or games.
Verifying location
Some online sweepstakes casinos may also require players to provide proof of their location. This is to ensure that they are located in a jurisdiction where online casino participation is legal.
The verification process is generally put in place to help ensure that players are eligible to participate in online sweepstakes contests. It also aims to protect the integrity of the games. Players should be prepared to provide accurate and complete information. This is to avoid delays or issues with account registration during the verification process.
📑 Do you want to know more? Read our article >> The Best Free Casino Games
What is a redeem?
In the context of sweepstakes and social casinos, a "redeem" typically refers to the process of exchanging sweepstakes entries or virtual currency for a prize. Sweepstakes and social casinos often use virtual currency or "sweeps coins". It can be used to enter sweepstakes contests or play games. Players may be able to earn sweeps coins through gameplay or by acquiring them through the store.
When a player wins a prize in sweepstakes and social casinos, they may be required to "redeem" their prize by exchanging their sweeps coins or sweepstakes entries for the prize. The process of redeeming a prize may vary. It depends on the specific sweepstakes casino and the prize that is being redeemed. Players may be required to follow certain steps or procedures in order to redeem their prize, such as providing personal information or filling out a claim form.
It is important for players to carefully read the terms and conditions of any sweepstakes contest or promotion before participating, as these will outline the rules and requirements for redeeming prizes.
Currently, on Fortune Coins, participants may redeem a minimum of FC 5,000 and in some cases, participants' redemption can be limited to FC 500,000 per day.
Conclusion
With all of the above mentioned, one can make an informed decision before registering and take the desired precautions for playing responsibly. For further information on privacy policies, terms and conditions you can refer to the relevant pages on our website.
Please follow and like us: